---
The Searchable Cardinals Baseball Card Database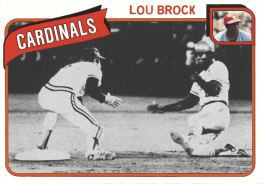 Welcome to the complete guide to Cardinals baseball cards!
(Or at least, as complete as I can get it. I will keep adding cards as I get new lists from more sets.) Currently, this database covers sets from 1900 to 2000, with some newer cards after 2000. (I'm trying to add more sets as I can.)

To find cards of a specific player, use the search feature. Currently, you can search by name (first and/or last) and/or by set name. To search by year, enter a year for the set name. I hope to incorporate the teams search as a separate field at some point.

A successful search will return all matching cards for most major sets through 2000 (and some sets after 2000 as I get them added). This search engine isn't very robust, so please restrict searches to specific players and/or sets. If you want a more extensive listing of all cards in the database, please use the pre-generated lists below, or go through the Virtual Card Album, where checklists are available.

---
The Virtual Card Album is an off-shoot of my baseball card collection. At some point, I started collecting scans of cards I couldn't own. From there, I scanned cards I did own. The Virtual Album is a collection of images of Cardinals baseball cards from a range of sources.


View all sets in the Baseball In St. Louis Virtual Card Album

Links
OldCardboard.com
Early Baseball Cards
Vintage Card Traders
oldbasball.com
Caramel Cards
O-Pee-Chee Central
The Trading Card Database
Vintage Card Prices
COMC
Team Sets 4 U

---
This database only covers baseball cards for players featured with the St. Louis Cardinals, the St. Louis Browns, or the St. Louis Terriers. This means that only cards on which the player is designated as with the St. Louis team or depicted in the uniform of a St. Louis team are included.

This database covers mainly cards from 1948 to 2000, although there is now also a selection of vintage cards as well. It does not include prices. The cards listed here are not for sale by myself, nor am I looking to buy most of them. This database is for assistance to those who are looking for cards of players with the Cardinals, when they played for the Cardinals, listed or depicted with the Cardinals. That's all. If you have any comments about this site, feel free to email me at bbstl@krispaulw.com.

To see what sets are covered by this database, look here.